VOLUNTEER GUIDELINES & REQUIREMENTS
Printable Kura Kai Meal Labels
Designed by Maimoa Creative, our Kura Kai Food Labels are in an easy to use edible PDF that you can print out.  Organisations can even upload their logo in the section next to our Kura Kai logo.  If you are having trouble editing, check you have the latest Adobe Acrobat.
Large Size Meal Label Small Size Meal Label
One of our only requirements and most important elements to your meal donations is for you to ensure you have packaged your meal as per our requirements. This will eliminate spills, cross contamination and ease of transport for our coordinators and our meal recipients.
FOIL ROASTING TRAYS WITH LIDS ONLY

to be used (no plastic or foil trays without lids).

They must have the thick cardboard lids that are secured tightly on top, please ensure all sides and corners are folded down smoothly to stop any leaks and spill.

Tray size

– The large family size (approx a 4 person serve) is ideal but if you can't find these trays or they are too big for your cooking feel free to use the medium sized, approx a 2 person serve.

Where to purchase

– Check with the other volunteers in your facebook group for best places to find these in your community. Often they are found in Supermarkets, Kmart, $2 Shops, Miter 10, SaveBarn, The Market etc or simply google search "Foil Trays With Lids"  for a number of websites where you can buy in bulk, maybe share a bulk order with another volunteer.
Often our Area Coordinators will have a stock of foil trays on hand that they can give out to anyone willing to collect from them.
Labelling requirements –

each meal

MUST

be labelled clearly with the following information. You can write this on the cardboard lid with a permanent marker or print it off and stick it to each lid, so it can be clearly seen and read.

Name of Meal

Full ingredients list

Date cooked

Date Frozen

Volunteer # or name/initials 

Any special reheating instructions

Please do not overfill the trays, as again these can cause a lot of mess for coordinators and students when transporting.
If you are unsure on anything just ask in the facebook group or contact your area coordinator. 
To keep things simple and consistent, we have a list of meals that we would like everyone to use if possible. These are all generally easy to bulk cook, affordable and freeze, thaw and reheat well. These are just a guide, but please stick to wholesome family dinner meals. (We are trialling one dessert option with some schools for feedback also)
We aim to include as many vegetables as possible in each meal, so please get creative with how you can do that and share your recipes and methods in the volunteer FB group. We want to make these meals as filling and as nutritious as possible.
Feel free to use your own recipes and be sure to let us know if you have any other good recommendations.
Post photos of your meals in our volunteer Facebook groups, we love seeing all your amazing mahi (work).
Macaroni & Cheese (A school favourite. Tip: Blend suitable vegetables into the cheese sauce)

Spaghetti/Pasta & Mince Bolognese (Meat or Vegetarian)

Lasagne

Pasta or Potato  Bakes (Vegetable, Tuna or Meat)

Bacon & Egg Pie

Casseroles

Shepherd's Pie (Meat or Vegetarian)

Fish Pie

Mild Chilli Con Carne on Rice

Fried Rice (Meat or Vegetarian)

Curry with Rice (Meat or Vegetarian)

Chop Suey

Vegetarian, Gluten Free, Dairy Free meals are also welcome – Please clearly label

Dessert: Bread and Butter Pudding
Check out recipe options here
Please do not take your meal donations directly to any of our schools, these

MUST

go via the Kura Kai Area Coordinators.
Once you have a batch of meals ready to donate please contact your nearest coordinator and arrange a time for you to drop them off, or they may be in a position to come and collect them. Just send them a text or message via the facebook group. 
Our coordinators all have plenty of  freezer space at their home so are happy to take meal drop offs on a regular basis.
If you can pre freeze your meals before delivering would be ideal, if you are transporting freshly cooked meals please be sure not to squash or spill them on the way. We have seen a few messes and ruined meals because they were still hot and fresh.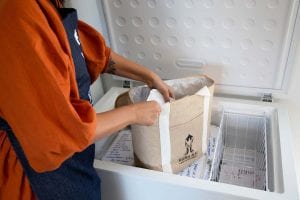 https://www.mpi.govt.nz/food-safety-home/preparing-and-storing-food-safely-at-home/clean-cook-chill/#three-cs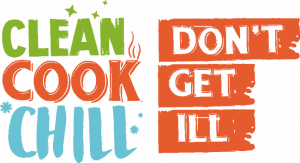 Clean, Cook, Chill
Following the 3Cs can help keep you safe from bacteria in food and reduce the chances of food poisoning.
Why we should "clean, cook, chill"
Every year around 200,000 Kiwis get food poisoning. Around half of these cases occur in homes just like yours. Food poisoning is caused by harmful germs in or on the food we eat. Campylobacter and Salmonella are the most common causes. You can help stop your family from getting sick by following the 3Cs: Clean, Cook, Chill.
Clean
Wash your hands with soap and dry well before handling, cooking, and eating food.

Wash chopping boards and kitchen tools in hot, soapy water and dry well after using with raw meat or seafood.

Use different chopping boards for raw meat, seafood, and ready-to-eat foods like salads and cheese.

Don't wash chicken or raw meat. Washing will spread bacteria in your kitchen and may contaminate other food.
Cook
Cook raw chicken, sausages, and mince patties all the way through. Use a meat thermometer or check that the juices run clear and they're not pink in the centre.

Defrost frozen foods thoroughly or they won't cook properly in the middle. Defrost food in your fridge or use the defrost setting in your microwave.

Reheat until piping hot. Warm doesn't kill bacteria. Hot does.

Don't reheat leftovers more than once.
Chill
Refrigerate or freeze any leftovers within two hours.

Refrigerate raw meat on the bottom shelf, and keep it separate from cooked or other ready-to-eat foods.

If eating outdoors, use a chilly bin with ice packs to keep food cold.

Eat leftovers within two days.

When in doubt, chuck it out.
Extra resources you can download:
https://www.mpi.govt.nz/dmsdocument/3662-Food-Safety-in-the-Home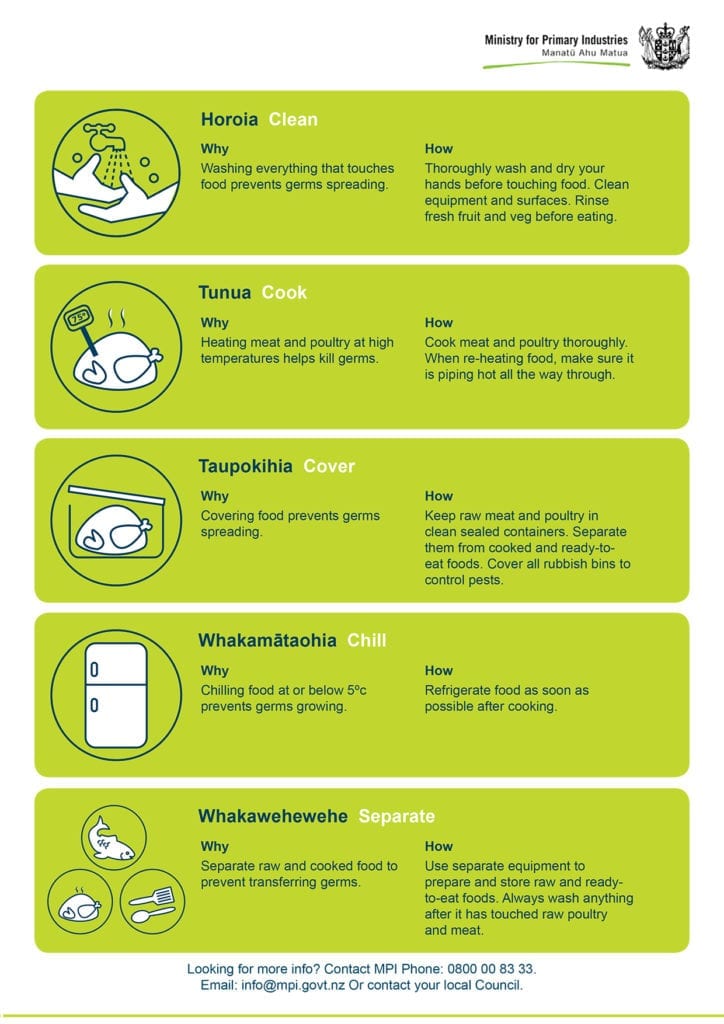 Exemptions from Food Act requirements
Under the Food Act 2014, some low-risk food events and businesses don't need a food control plan or national programme. 
A "good Samaritan" clause protects people who donate food that is safe at the time of donation, and meets any food composition, labelling, and other suitability requirements that may apply to the food. For example, this applies to food donated to a food bank.
These donors cannot be prosecuted under the Act if, for example, the food later makes people ill.